Hotel Lobby Zürich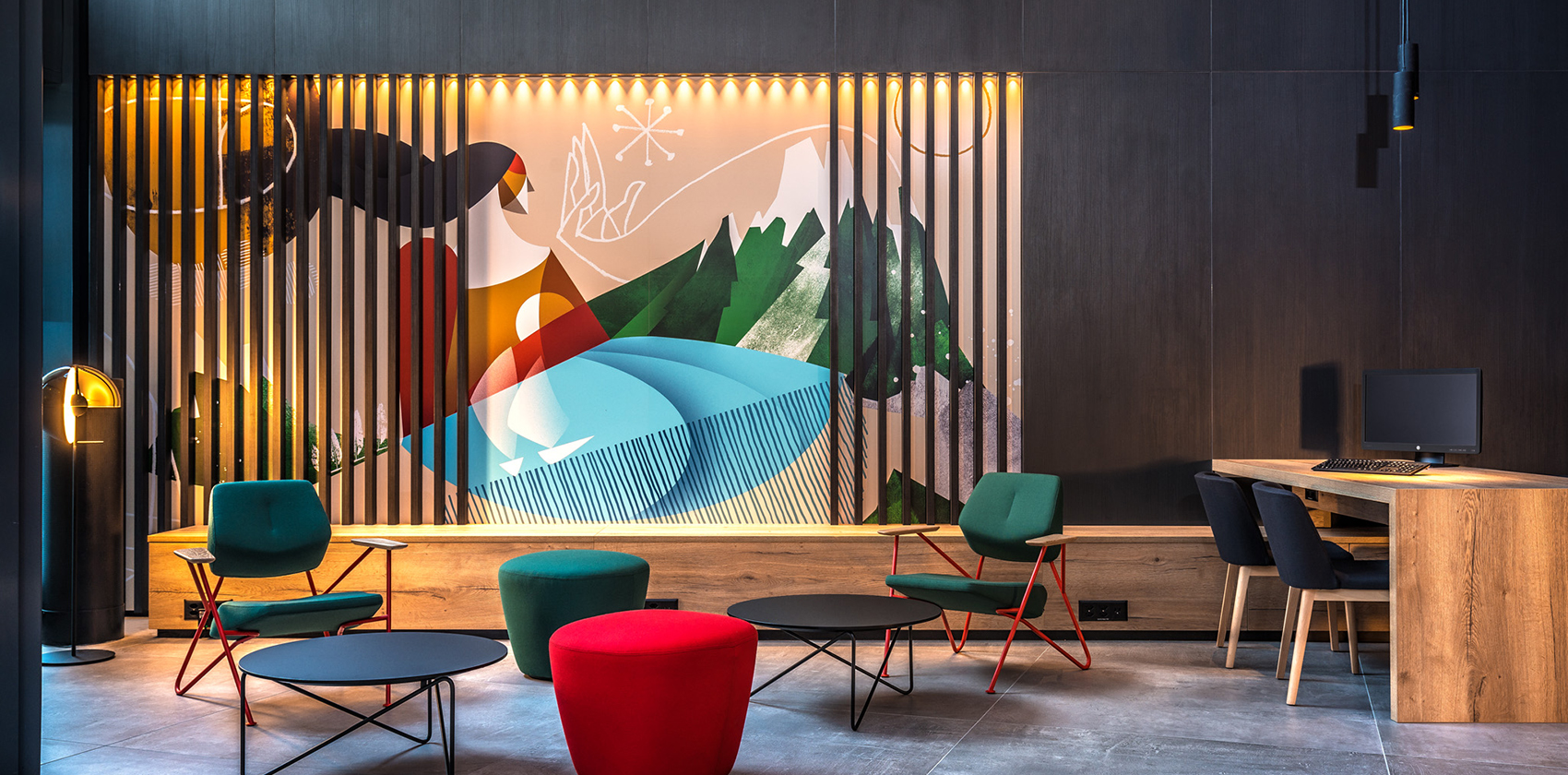 Name
Hotel Lobby Zürich
Date
2018
Location
Zürich, Switzerland
Team
Nataša Ivanišević, Sandra Barcons Planella, Jordi Parcet Comas, Booboo Tannenbaum
A&A Architects / Destila
A Pinch of Design
Client
Rezidor Park Inn Switzerland AG
Status
Built
Interior Design of the Lobby and Reception of Radisson Zürich Airport Hotel, Switzerland
Redesign of the hotel lobby aimed to create a place for social connections, functional yet elegant and memorable live-inn room that makes guests feel like at home. The new design of lobby and its custom-made wall graphics follow on Park Inn Next Generation brand style, aimed at young and youthful world travelers who seek for a functional, tech and space-savvy, transparent and dynamic interior, with a powerful use of colours.
The central social space provides a cosy ambience with comfortable armchairs, high back sofas and coffee tables, fully equipped for a creative co-working and conversations. It delivers a consistent guests' experience and a truly great first impression that invite guests to linger and interact with others.
Lobby walls and the first floor windows are integrated by the use of same system of timber panels and slats, transforming the upper floor to a graphic play of vertical partitions that permit the views at the same time. Dark grey colour of timber wall finishes and grey cement tiles correspond to Swiss minimalistic architecture and design, carefully contrasted with colourfull furniture and custom-made wall graphics.



The inspiration for artworks we took from the very rich art history of Zürich in the 1920ies. It was the time of breaking the art norms and rules, expressionism, surrealism, dadaism - whose official hometown is Zürich - that changed the way things were depicted and seen. In the artworks we played with composition and forms, there are clear references to Tête Dada in form and shape, and Le Corbusier's numerous pencil drawings, but we still wanted to keep clear associations with what Switzerland is famous for - beautiful nature, lakes and mountains - and, naturally, add some landmarks of Zürich itself.