Art Academy Zagreb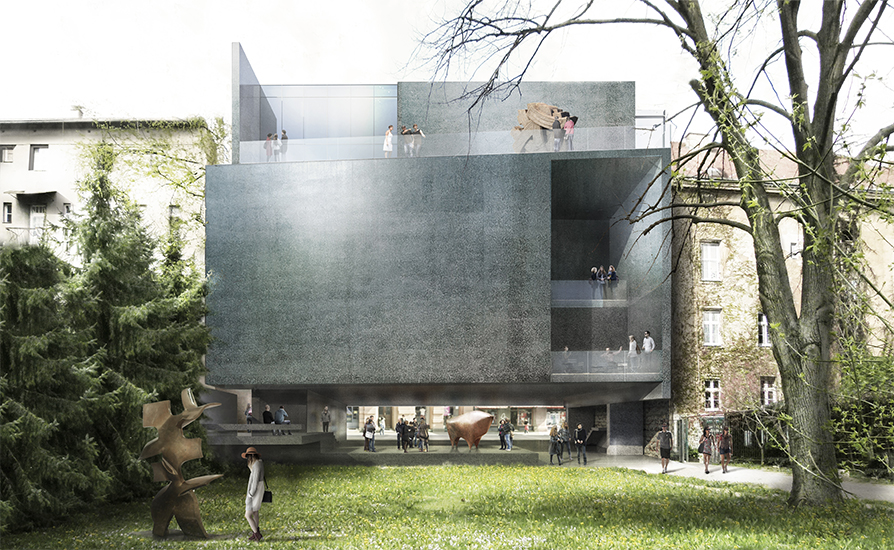 Name
Art Academy Zagreb
Date
2014
Location
Zagreb, Croatia
Team
Nataša Ivanišević, Krunoslav Šmit, Jaime Font Furest, Jordi Espinet Roma, Carlos Dimas Carmona, Marcos Parera Blanch, Benjamin Iborra Wicksteed, Marc López Mañas, Viscor Pages
A&A Architects / Mesura
Client
Academy of Fine Arts, University of Zagreb
Status
Competition Project
Architectural and Urban Project of Art Gallery Aluartforum of the Academy of Fine Arts in Zagreb, Croatia
The urban pulse and the importance of the Art Gallery location indicate the need for architectural design to emphasize the context that does not refer exclusively to the construction of a new building, but to the design of a new city center symbol, as a place for art affirmation and a cultural hub. The architectural idea of ​​the building is defined as a new urban reference that continues facade of Ilica street and establishes a relationship with the park of the Academy of Fine Arts.
The new building, designed as a city gate to enter the Academy Park, has a completely free ground floor. The park and the street are thus connected and create a new city highlight that enables and assumes a significantly higher flow of citizens, much more intense in relation to the situation in which the new building would be focused exclusively on organizing exhibitions.
The project emphasizes the establishment of the Aluartforum as a new segment in the continuous facade of Ilica. The new building is therefore defined at the front as the entrance to the park, or at the rear as the exit to the city. In accordance with its character of the main entrance, the northern façade towards Ilica is understood as an extension of the street and the background, a neutral surface of the exhibition box, as a painting canvas. On the other hand, the southern façade towards the park is not designed to be observed but to become a place of observation to emphasize the idea that the design does not intend to contrast or compete with the ambient and natural values ​​of preserved park. The southern façade is designed in a minimalist way so that nature can be reflected in the glass surfaces, thus the vegetation becomes the protagonist of the façade.


The aim is to create a building that is strong in terms of pure form, that conducts a dialogue with neighboring buildings without competing with them, but also that gives a prominent place to its function - both at the urban development level and at the operational architectural level.