Restaurants Bocca Buona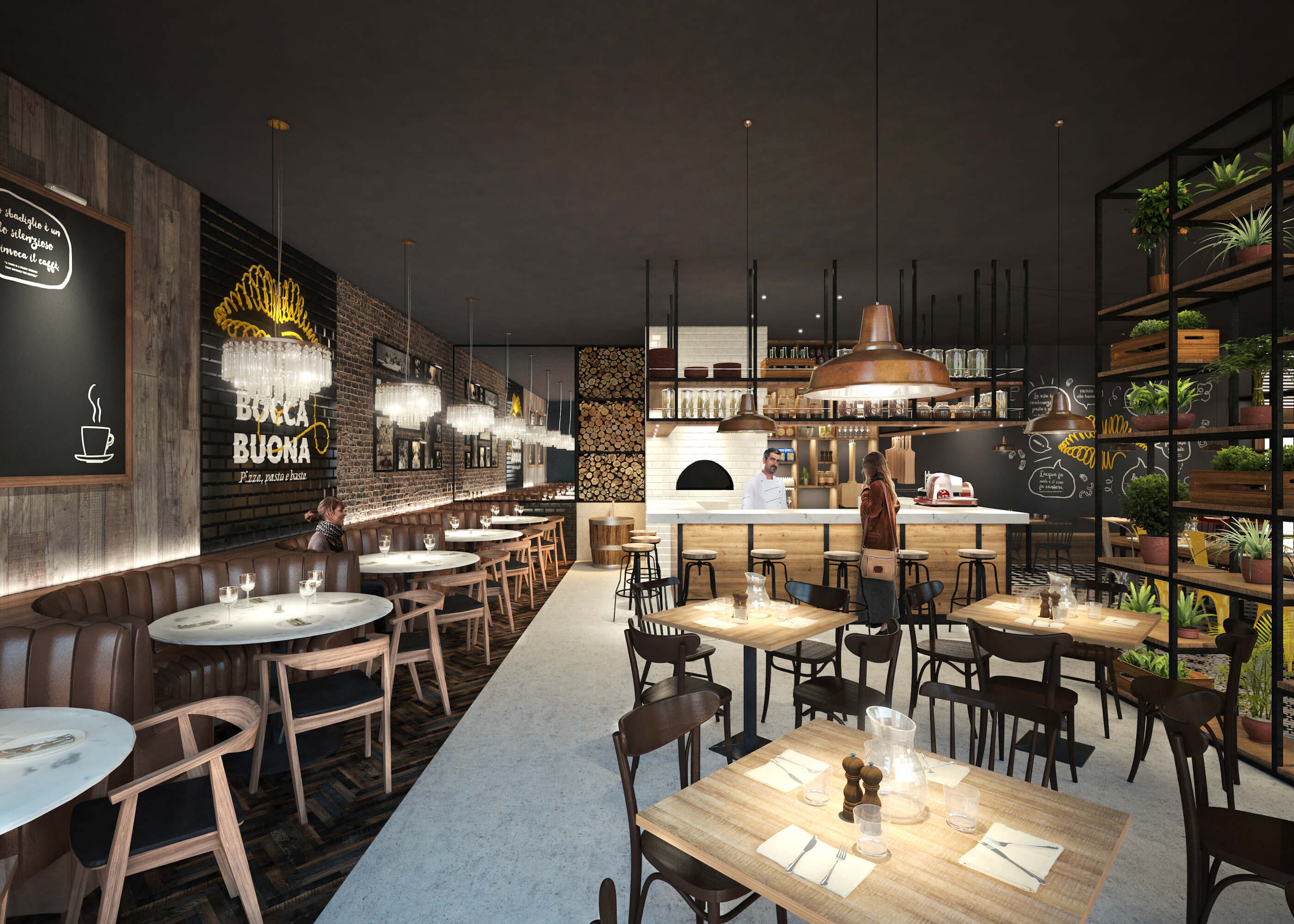 Name
Restaurants Bocca Buona
Date
2016
Location
EMEA
Team
Nataša Ivanišević, Sandra Barcons Planella, Jordi Parcet Comas, Marko Šesnić, Goran Turković, Andrea Sužnjević Šumberac
A&A Architects / Destila / Šesnić&Turković
A Pinch of Design
Client
The Radisson Hotel Group
Status
Brand Design Implemented
Concept Design for Brand of Italian Restaurants Bocca Buona
Bocca Buona is a new brand concept developped for The Radisson Hotel Group where simple Italian food is enjoyed in a modern, informal, fun and easy setting. 'Pizza, pasta e basta' was created as a strapline referring to Italian gastronomy and flavours with simple produce, simply produced by what can be a small team: one in the kitchen out front, one on the restaurant floor and one on the bar.
The Italian culture of food is the central attraction of the restaurant, with a Show kitchen and a Show bar placed on the opposite sides of the restaurant for customers to enjoy views of theatrical preparation of simple delicious food and typical Italian drinks.
Areas have been zoned, described with Italian names for dining places. Customers can enjoy different experiences within the restaurant, from friends having afterwork drinks or flavouring ice-creams and antipasti snacks, couples having a romantic dinner in private booths, to families seeking the perfect place to catch up at the communal table, placed as the centerpiece that inevitably brings buzzy atmosphere of the Italian streets into the restaurant.




A multi-layered design says alimentari with tobacco faux leather booths, white and black wall tiles, brick, timber and marble finishes, polished concrete or timber flooring with the occasional ceramic tiles and mosaic details. Wooden and metal chairs, leather armchairs, marble and timber table tops, round or rectangular in shapes, a dark painted ceiling, wooden beams, vintage lamps and bespoke detailing, all providing striking visual impressions and a sensory journey to Italy that encourages guests to linger.