Agricultural Complex I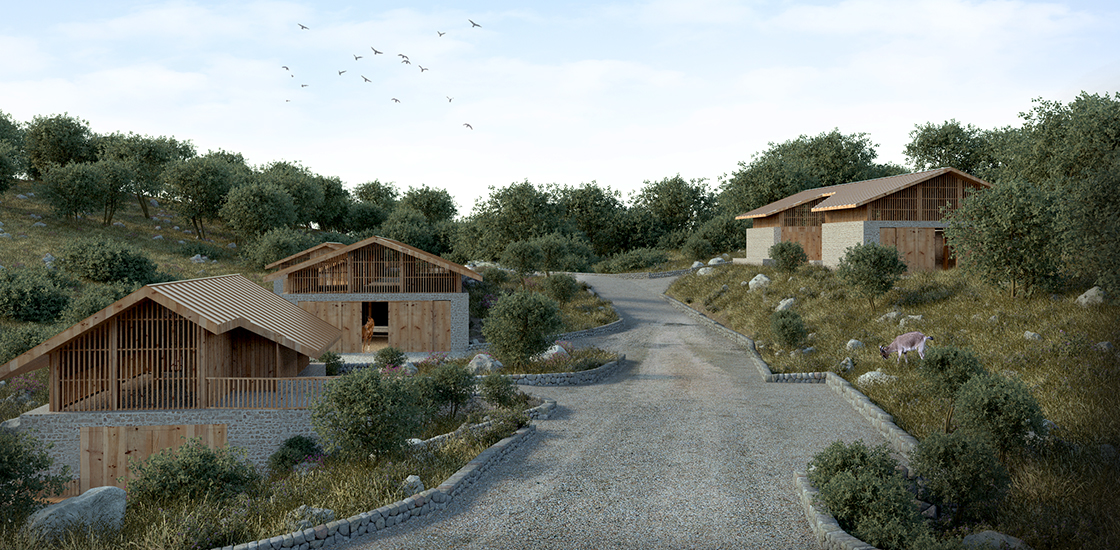 Name
Agricultural Complex I
Date
2016-2017
Location
Ston, Croatia
Team
Nataša Ivanišević, Antonia Asturić, Krunoslav Šmit
Client
Private
Status
Construction Permit
Basic and Execution Project of Agricultural Buildings in Česvinica near Ston, Croatia
The project encompasses the construction of farm buildings for animal husbandry on a plot of 9000 m2. The plot has an irregular polygonal shape sloping to the south. An internal road is dividing the plot into three parts with groups of individual buildings.
The concept of design arose from the affirmation of the main qualities of the land while respecting the functional guidelines for outbuildings. In the ground floor of buildings there are accommodation units for animals with accompanying service rooms. The units are directly connected to the outdoor terrain in the south via a central feeding corridor. The natural fall of the terrain has been used to accommodate straw or hay in the attic of farm buildings.
The traditional image has been preserved in the exterior with the use of the gable roof and the stone aggregate in the exterior perimeter walls design. The facades are planned to be covered with timber in some parts, as a natural local material characteristic of the climate. At the foot of the outbuildings, a detail of the stone trough is planned, which serves as a rainwater tank and as a storage room for equipment.




The areas around the buildings will be arranged as green areas with shrubs, low greenery and green fences in a cascade, according to the configuration of the terrain. The green parts of the plot will be horticulturally arranged, cultivated with the indigenous plant species. Access paths and pedestrian areas are lined with natural materials. All retaining walls used to stabilize the terrain will be constructed as a combination of a reinforced concrete retaining wall lined with stone, in some parts shaped like a drywall or a green fence.