Residential and Tourist Complex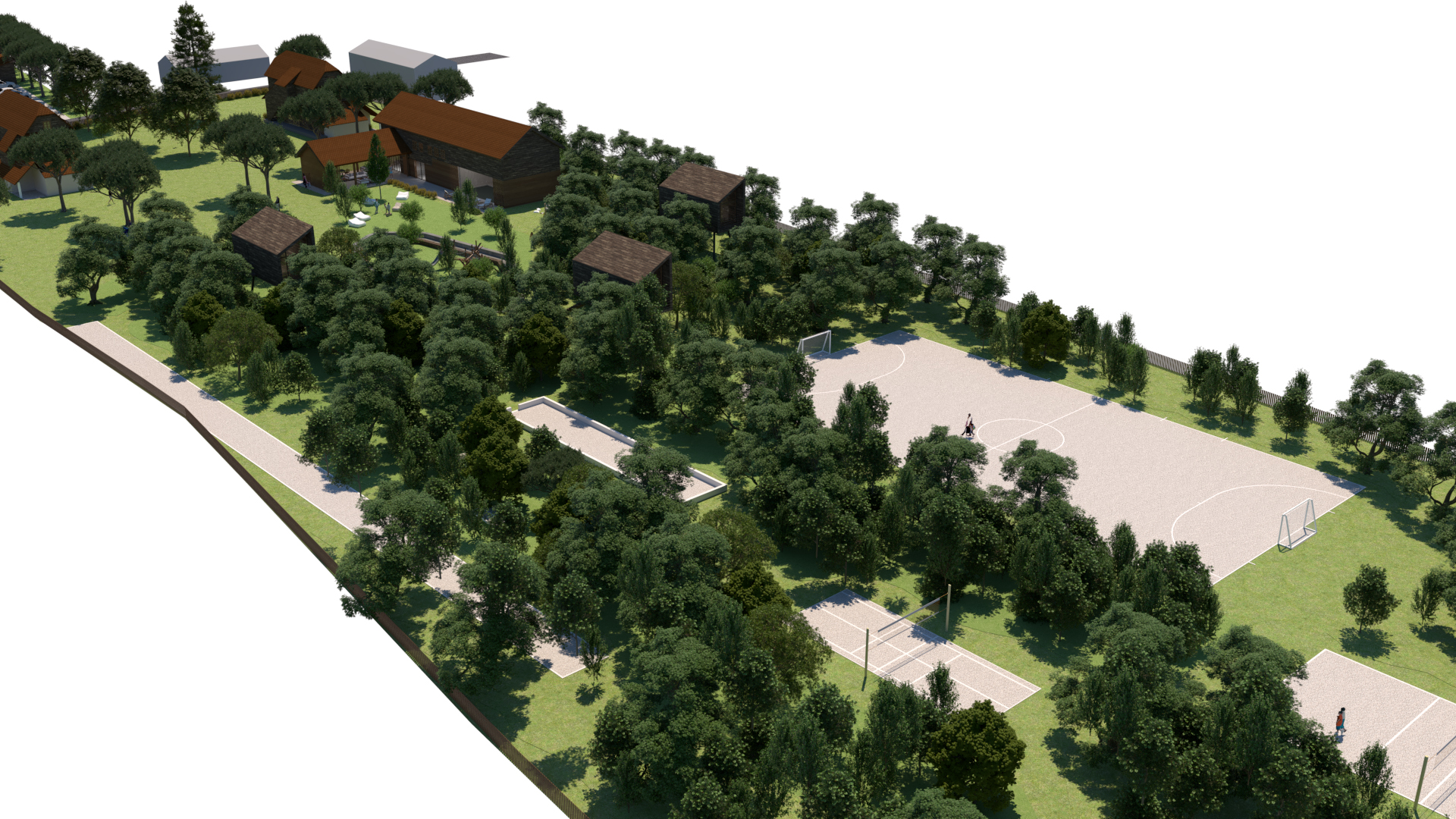 Name
Residential and Tourist Complex
Date
2021-2022
Location
Kratečko, Croatia
Team
Nataša Ivanišević, Katarina Kozlović, Krunoslav Šmit
Client
Private
Status
Preliminary Design
Preliminary project for a Rural Estate of Traditional and Modern Housing with Tourist Facilities and Sports Fields in the vicinity of the Lonja Field Natural Park, Croatia
The Kratečko estate is a rural farm with recognizable features of the Lonja field natural park with wooden houses of traditional construction that become the main attractor of the space and an element that characterizes the identity of the complex. The idea of ​​the project is to create a whole that will retain and affirm existing traditional values, but will not escape from modern needs and a contemporary approach to design.
Functionally, the complex consists of two renovated traditional houses to accommodate visitors, a new central building with a restaurant, swimming pool, sauna and fitness, covered space for socializing and interactions, as well as accommodation on the first floor, and buildings for visitors and bicycles, canoes and quads. Next to the building for the reception and rental of equipment for excursions, there is a parking lot as a separate unit across from the accommodation and sports area to preserve the ambient quality of the complex.
As new tourist attractions, two types of bungalows are introduced within the park-forest part of the property - one larger with a room for accommodation and a bathroom, and the other smaller which are based on the principles of a traditional lookout. Both types of bungalows are raised from the ground among the treetops offering a different experience of the surroundings with views of the field for a closer contact with nature, birds and wildlife from wetland forest habitats. The design of the bungalows refers to the architecture of the pile dwelling and the architecture of the lookouts in response to housing in the floodplain - wetland area.












Part of the complex are sports fields that are arranged as forest glades surrounded by newly planted trees as an extension of the existing perennial tree plantations. The forest glades are dimensioned as various sports fields providing entertainment and recreation for the visitors. Here, the experiential aspect of the surrounding space is in the foreground instead of the formal competitive part of the game. The material chosen as the ground surface is a mixture of local sand and compacted earth which enables the uniqueness of the game on a highly specific surface made of local material, functionally adapted to the needs of sports activities. Each glade is bordered by a forest-park area in order to distance the fields from each other, enable undisturbed play and ensure the availability of pedestrians to each sports field through forest meanders.
In addition to sports fields, next to the housing units there are children's playgrounds with grandstands for sitting, as well as barbecue areas or outdoor cinema. An important part of moving through the property is the endless pedestrian lane that connects all facilities and allows movement through the field and forest giving it a park character, raising the ambient natural value of the complex and separating it from the surrounding rural space in a way that ensures that the new complex does not disrupt the activities of rural life.