Music School and Cultural Center Sisak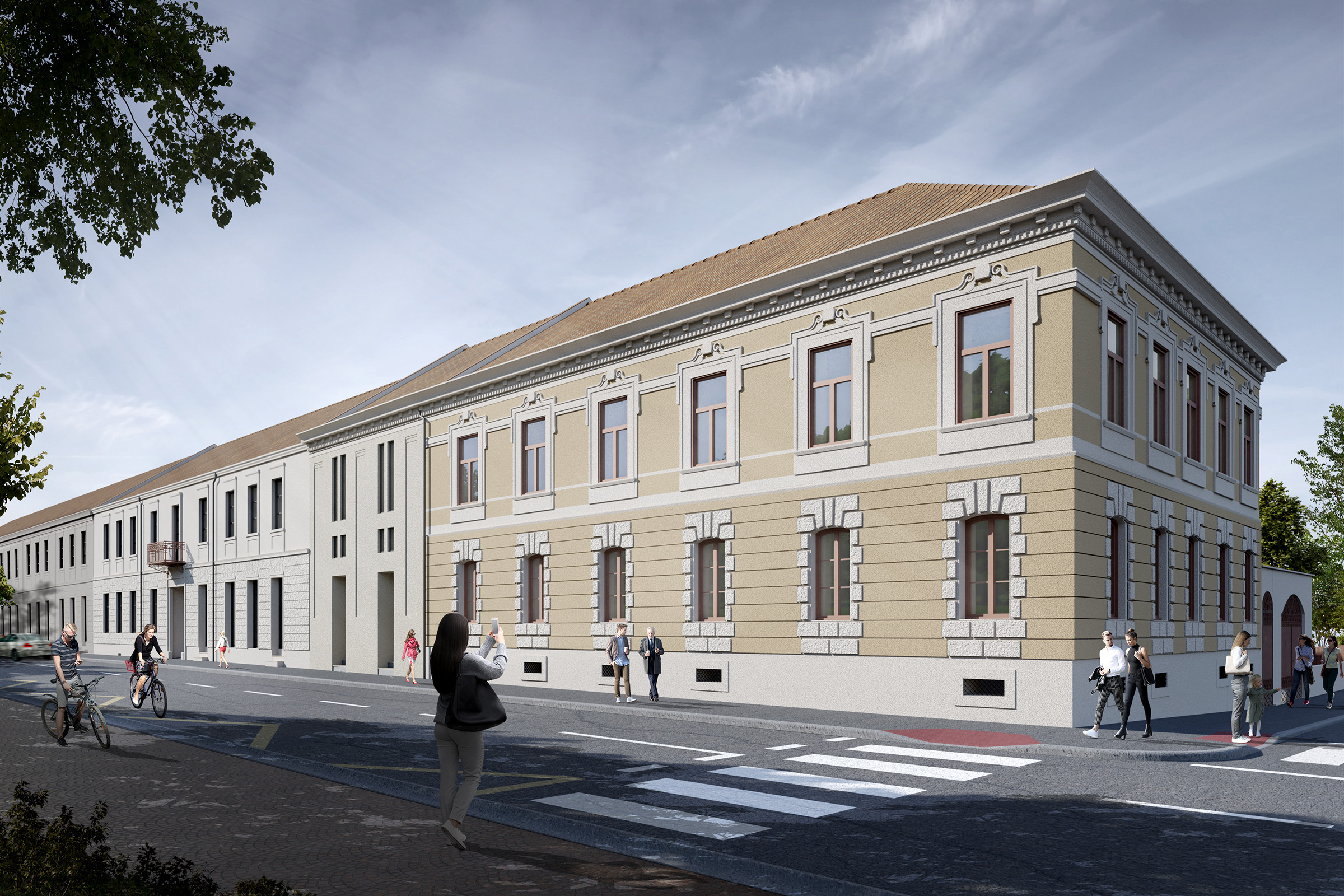 Name
Music School and Cultural Center Sisak
Date
2022-2023
Location
Sisak, Croatia
Team
Nataša Ivanišević, Krunoslav Šmit, Lucija Radelja, Ivan Matorić
Client
Sisak Moslavina County
Status
Completed
Concept Architectural Design for the Complete Renovation of an Earthquake Damaged Building in Rimska Street 19, Sisak
The building was damaged during the 2020 earthquake. The main building is divided into five building units that are connected into a single interior unit. The first unit is a corner building with a representative facade and staircase from the period of historicism.
The new functional organization resulted from the accommodation of two new contents. The primary division is the music school and the cultural center, for which separate entrances have been designed. The music school and cultural center consist of a street and a courtyard wing forming L-plan shape. The remaining auxiliary buildings are planned to be demolished in order to free up areas in the courtyard for the design of the park space, which connects the music school and the cultural center into a common, publicly used complex.

Next to the entrance to the music school, a square was formed with a preserved historical portal through which it can be accessed from the street. The cultural center has a larger inner square, which can be reached from Rimska Street. The landscaped park environments will enable a pleasant stay in the open space and the organization of compatible contents and activities of a temporary and occasional character as an extension of the basic functions of the music school and cultural center.






The music school is organized as one functional unit that extends in an integrated manner in all areas of the street and courtyard wings of the building. In the space above the central entrance hall, there is a main multipurpose hall for theoretical classes, dimensioned according to the standards for educational institutions. From the attic you enter the gallery of the multipurpose hall. In addition to the central multipurpose hall, on the ground floor and on the 1st floor, in the space between the two staircases, there are two more halls for theoretical classes. In the attic, on the eastern edge of the courtyard wing, there is also a smaller hall.
The cultural center, like the music school, consists of a street wing and a courtyard wing, which are integrated into a single unit by means of a common entrance with vertical communications. The main representative entrance to the cultural center is located from the courtyard area, it is accessed from Rimska street through a passage that is in the regime of public use.