Apartment Buildings Mljet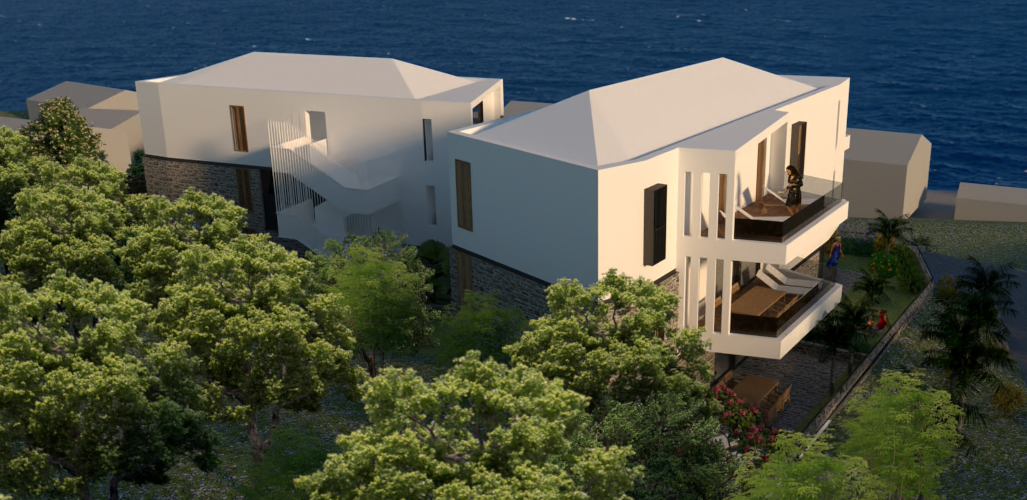 Name
Apartment Buildings Mljet
Date
2019-2020
Location
Mljet, Croatia
Team
Nataša Ivanišević, Katarina Kozlović, Krunoslav Šmit
Client
Private
Status
Main Project
Architectural Design of two Residential Buildings in Prožurska Luka in the Island of Mljet, Croatia
The buildings are located on a terrain that is sloping north towards the sea shore. Each building has residential units and apartments, open as much as possible towards the sea view, with balconies placed on the northern and eastern facades. The residential buildings have three floors, with two flats per floor consisting of living rooms, dining rooms, kitchens, bedrooms, bathrooms, balconies and common areas. Vertical communication is via open external staircases placed on sides overlooking adjacent building.
The buildings are rectangular in shape with several beveled edges adapted to the shape of the plot. The design concept arose from the affirmation of the ambient qualities of the plot and the indigenous landscape, with the aim of designing an unobtrusive, landscape-integrated ensemble, respecting functionality and local traditional architecture in conjunction with modern trends.
The residential building facades are characterized by roughly carved stone combined with a white plastered facade. The vertically elongated windows refer to the traditional narrow openings of stone-made Dalmatian houses. The buldings are covered with a hipped white roof lined with stone slabs and a hidden gutter. The sloping lines of the cantilevered balconies maximally soothe this modern intervention on the typical Mediterranean house.




The green areas around the building are planned as lawns with shrubs and indigenous plants in accordance with the configuration of the terrain and the plot design. In addition to the common horticultural landscaped areas around the residential buildings, the tenants will also have at their disposal a garden on the balconies designed as part of the living space. These balcony gardens present also a physical and visual barrier towards the neighboring plots in order to ensure privacy.
A retaining wall is placed between the building and the access road to form an elevated base, thus no part of the residential buildings would stay underground and all units would have equal value and importance. Access paths, walks and pedestrian areas are planned to be covered with local stone paving in combination with grass surfaces. The walls around the building will be made of roughly carved local stone, as a traditional drywall, to fit as much as possible into the natural terrain.